The Yorkshire Actuarial Society (YAS) was founded in 1981 as a society for Students, Associates and Fellows of the Institute and Faculty of Actuaries (IFoA)
Meetings are normally held on a Tuesday or Wednesday in York or Leeds and start at 18.00. The sessions usually last one hour.
The YAS is free to join and new members and visitors are very welcome
The Committee is keen to receive ideas for technical and social events from members in the Yorkshire area and beyond.  If you have an idea for an event, please let the committee know.
Below:  The Yorkshire Actuarial Society 2019 Annual Dinner, with John Taylor, IFoA President Elect, in attendance
Upcoming events
Event
YAS Leeds Big Event
Topics include:

Collective Defined Contribution Schemes - what's next?
Modelling of Longevity Trends
Get it right - stay professional (Stage 3 PST)                                                                                                                                                        

Speakers

Shriti Jadav 
Steve Haberman
Malcolm Slee

Date
27 June 2019
Time
16.00 - 19.00, followed by networking
Location
PwC Offices, Leeds
---
Below:  A recent YAS event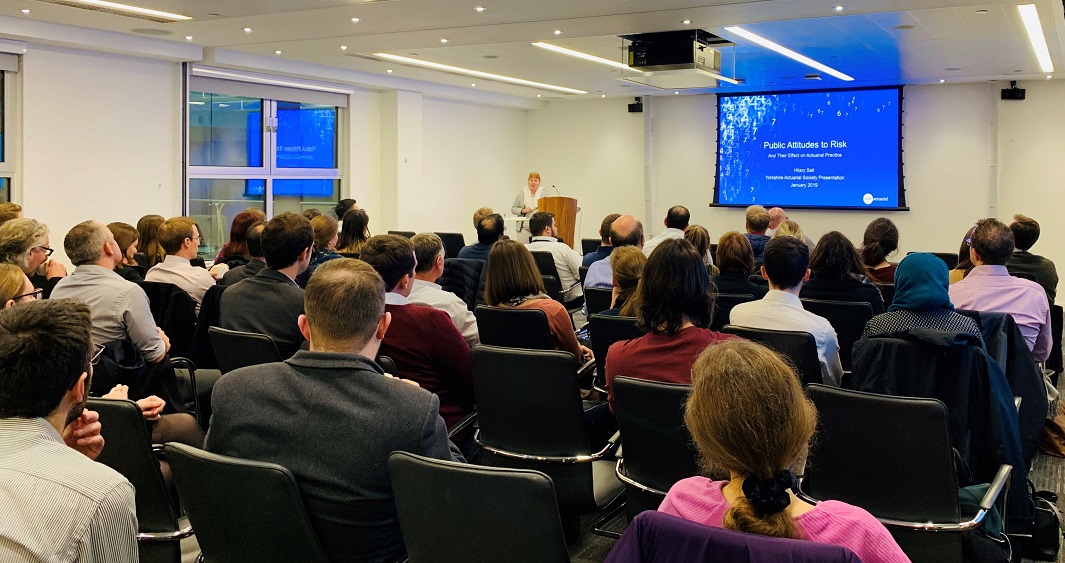 Who's who in the Yorkshire Actuarial Society
You might also like
Overview of regional activity in the UK

Details of regional activity in London

Details of regional activity in Scotland

Overview of regional activity overseas
Contact Details
For information regarding regional societies, please contact the Senior Stakeholder Relationship Manager, Kirstie Smith.